So when I look at images taken of Andromeda, I see a lot of individual stars.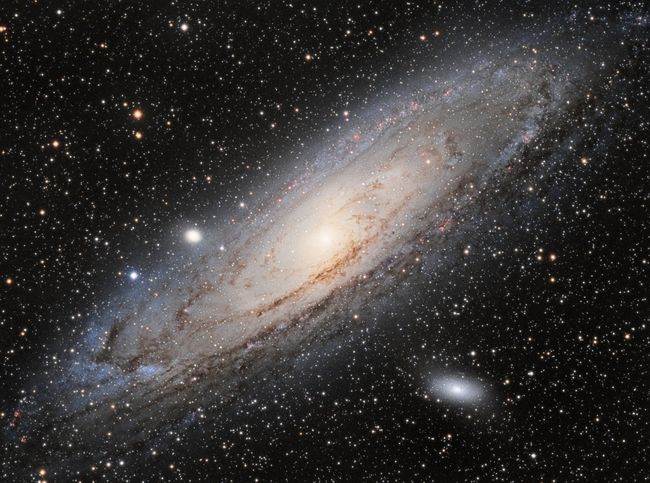 Image by André van der Hoeven
It seems to me that the actual individual stars that far away would be too small to resolve, even with a big scope like the Hubble. So, I have to assume that these points of light that I see are either a) stars in our own galaxy, or b) other distant galaxies, like we would see in the Hubble Deep Field:
So I decided to think a little about this ... so I chose what I presume is big, bright star: R136a1. This one is about 30 times the size of the sun, and 8.7 million times as bright. We can barely see this thing with a telescope, and it's 163,000 light years away. Andromeda however, is 2.5 million LY away, over 15 times as far, which would make the light ... what ... 15 squared... 235 times as faint?
I have to imagine that the glow from the galaxy comes from the scattering and reflecting of all the collective starlight inside the galaxy off the dust and gas and whatnot contained therein, and that the actual individual stars would be kind of like individual droplets of water in a cloud. Almost kind of like when you can briefly see the form of a cloud when lightning flashes inside it at night (even though the light really isn't coming from the droplets)
Am I even close to correct in thinking this?
Thanks